Welcome to The Arizona WebCam
This site is run by the IT Lab personnel from the
UArizona Department of Computer Science
View Legend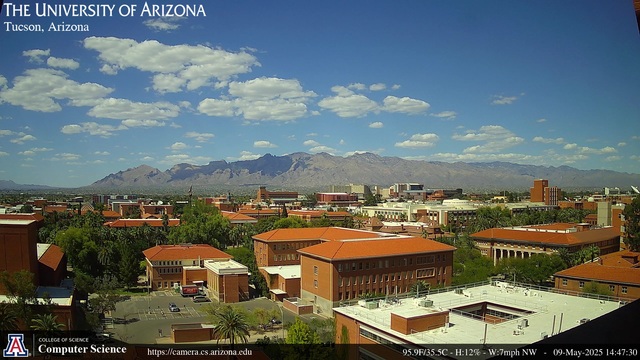 Click image for full view.
The Santa Catalina Mountains form a backdrop for this view of the University of Arizona campus. Pusch Ridge comprises the first three labeled peaks; Pima Canyon runs in front of this ridge and behind Finger Rock.
Mount Lemmon is the highest peak in the mountains. It hosts a ski resort and a small community, but is difficult to spot because other mountains are closer. The Sabino Canyon recreation area is out of view to the right.
On the campus, Old Main (lower right) is the oldest building; it was constructed in 1891. The Student Union, behind it, was completely rebuilt in 2003.
The McClelland, A.M.E., and Johnson buildings run along the north side of Speedway Boulevard, a major Tucson artery. The Health Sciences center, further north along Campbell Avenue, is about a mile from the camera.
The temperature data used in the camera images comes from the Atmospheric Sciences weather station just east of our building. We now use the five-minute-average of the ground-level temperature, the official reading from this station. National Weather Service data is used as a backup when the campus data is unavailable.
This is the current forecast based on data from the Tucson International airport.
Tucson, AZ WEATHER
Location of where our cameras get their view.
© 2022 The Arizona Board of Regents on behalf of The University of Arizona.